Welcome to the Ultimate Summer Golf Membership - Paradise Golf!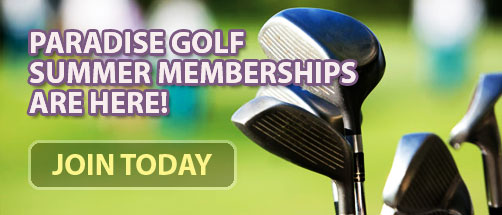 Join the premier, private multi-club golf membership without walls in the Tampa Bay, Central Florida, and West Central Florida area. NO TIME BETTER THAN NOW! Once again the summer membership will sell for $199 for 2017 summer from April-October! SUMMER MEMBERSHIP STARTS AT MANY CLUBS APRIL 1ST!
WELCOME TO THE 2017 PARADISE SUMMER MEMBERSHIP - DETAILS FOLLOW
---
The Paradise Golf Summer Membership for 2017 will once again feature our best lineup ever with 70+ clubs! In addition to the 50+ clubs in the 4 counties that make up greater Tampa Bay, we will have 14 clubs in the Bradenton/Sarasota market in 2017. We also have a number of clubs in the Central Florida/Orlando market. We would be pleased to have you as a member so you could enjoy such a fine array of clubs at great prices through October 31. CLICK HERE to see our current Tampa Bay area Roster of our participating clubs for 2017, their rates and start dates! We are still putting together our Central Florida out of market clubs
CLICK HERE to purchase the 2017 Summer Membership or call Jerry at (813) 635-9100 x 107 for questions or to purchase over the phone.
---
The following describes the offer to join our 2017 Summer Membership program featured including our special signing bonuses.
THE SIGNING BONUS PACKAGE for 2017 WILL ONCE AGAIN BE VALUED IN EXCESS OF $1000 AND INCLUDE:
Two FREE ROUNDS OF GOLF - One Round to the fabulous PGA Tour quality maintained Fox Hollow GC and One as a Member For A Day to the great Countryside CC, a private club part of the CCA family of clubs - valued up to $100 - Limited to the first 1,300 retail priced purchasers!
68 TRY US OUT passes good for use to 30+ different clubs throughout the area at very low TRY US OUT rates! These passes will be valid April through July and then August through October. The certificates typically can be used anytime Mon-Fri, after 10am Sat-Sun -

valued up to $350

One cart fee only for four pass for two separate uses to World Woods -

valued up to $80

We will also have 15 Member for a Day Passes, one each, at great preferred rates, to many different private clubs from Bradenton/Sarasota to the Tampa Bay area -

valued up to $525

25% off Edwin Watts Spiff

A Complimentary 20 minute video lesson or clinic with Jon Johnson or Joey DiPompo of Tampa Bay Downs Range

- valued up to $40

Free Utility Club or Wedge courtesy of Razor Golf, shipping & handling charges apply

Free bucket of balls courtesy of Chi Chi Rodriguez Family Sports Complex

- $5 value

Free bucket of balls courtesy of Tampa Bay Downs Range

- $5 value

Free bucket of balls courtesy of Tampa Golf Range off Dale Mabry in Carrollwood

- $5 value
Free bucket of balls courtesy of Terrace Hill Driving Range - $5 value
Free bucket of balls courtesy of Ace Golf Brandon -

$5 value

$10 Beef o Bradys Tampa, 2 locations, certificate
CLICK HERE to purchase your 2017 Summer Membership!
ABOUT PARADISE GOLF MEMBERSHIP
Paradise Golf has been a significant provider of value to its members in the central, west central Florida area since its founding in 1999 by Outback Steakhouse. Paradise Golf is an avenue for its members to have access to multiple private and public access clubs year around. In addition to great rates and tee times, Paradise has become a "virtual club with no walls or boundaries. It offers the following programs and benefits year around that you would expect to find at a private club:
A full year of tournaments and play days calendar for competitive golfers and fun golfers often at clubs that participate on the card membership program and at private clubs such as Black Diamond, Innisbrook, Cypress Run and other great courses such as TPC Tampa, Fox Hollow and Westchase

An annual USGA GHIN handicap through the Florida State Golf Association for the low price of $20/year plus tax

Leagues almost every night of the week in the summer including Monday evening at Westchase, Tuesdays at Dunedin GC and at The Eagles on Wednesday evenings

A weekend mixed quota league for those who want to compete on a regular basis

Tuesday and Thursday member emails that include unadvertised specials, course conditions updates, high value drawings and more!

A concierge service from local PGA Golf Professionals for high quality in and outside of the Tampa Bay area

Regular member getaways to golf travel destinations around the world

Special member events such as happy hours, a day at Tampa Bay Downs and other great venues

Special pricing and rates for juniors aged 6-17

Special pricing and privileges at many driving ranges around the greater Tampa Bay area

Special corporate membership programs.......And more!
Sincerely,
Gregg
Gregg Gagliardi, PGA
President, Paradise Golf

*Please add 7% sales tax & $4.95 shipping to membership cost
**Prices quoted are without sales tax